Manchester City Centre
Your Second Visit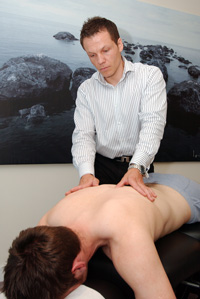 After your initial examination and before treatments start, we will schedule a Report of findings visit for as soon as you are able to return. This is the most important visit.
Report of findings
During the Report of findings we will present what the examination findings are and make our recommendations for you to start improving your health. We will tell you, in clear, simple language, what is wrong and what can be done about it. We provide a range of options if chiropractic treatment is the best course of action for you.
Our Best Recommendations
You will be advised about any particular need for exercise based rehabilitation, or recommended changes to your lifestyle, occupational environment or diet. We encourage you to take an active part in the healing process to speed up the improvements.
You will be advised of all costs that relate to your future care. We will also discuss how treatment can help alleviate the symptoms in the short term – helping you to become pain free, and then how maintenance treatment could play a beneficial role for you (if appropriate).
Following your Report of findings we can provide your first adjustment (chiropractic treatment).
Your Regular visits will not be as long as your first or second visits to Deansgate Chiropractors.
---
Report of Findings | Deansgate Chiropractors